Validation date: 17 12 2011
Updated on: 05 01 2021
Views: 1952
See on the interactive map:

---
52°33'39"N 004°44'38"E
runway - N/A - water

Naval Air Support Unit Alkmaardermeer (Dutch: Marinesteunpunt Alkmaardermeer, also known as Marinesteunpunt Akersloot) was a Naval Aviation unit 25 kilometer northwest of Amsterdam.
It consisted of a small Naval Aviation detachment of 3 aircraft at the Alkmaardermeer in Akersloot, south of Alkmaar. In an attempt to disperse their aircraft to avoid destruction the Marineluchtvaartdienst (MLD) in 1938 decided to set up a Naval Support Station on the banks of the Alkmaardermeer. It was set up at the Akersloot marina. The site was in use between 1939 and the German invasion in May of 1940. The detachment was tasked with patrolling the Dutch coastal waters between IJmuiden and the island of Rottum, near the Dutch-German border.
On 10 May 1940 the unit had 10 Fokker C-XIV-w aircraft available, one of which engaged 3 Bf-109s near Bergen, downing one. By 13 May 1940, three days after the invasion began, the commander of the station was ordered to fly his aircraft to France in an attempt to fight from either there or from Great Britain. Eventually they ended up at Pembroke Dock, where they formed the RAF's 320 Squadron.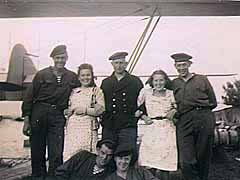 One of very few pictures of Naval Air Support Unit Alkmaardermeer. It shows Navy personnel posing with local girls, in the background the tail of a Fokker C-XIVw is visible. This photo was found at the turn of the century during renovation work on a home in Amsterdam (stelling-amsterdam.nl).



Recently released photos of heavy Fokker C-VIII W reconnaissance floatplanes, including G-2, in the Akersloot marina (collection Nederlands Instituut voor Militaire Historie).
After the war, the station was no longer used for aviation activities. The marina returned to its normal use and there is nothing that reminds of the old Naval Station.