Validation date: 27 03 2012
Updated on: Never
Views: 1480

---
54°29'49"N 005°28'19"W

Runway: ../.. - ...meters/...feet - tarmac
Runway: ../.. - ...meters/...feet - tarmac
Runway: ../.. - ...meters/...feet - tarmac

Ballyhalbert airfield (RAF Ballyhalbert) was an airfield 32 kilometers east-southeast of Belfast.
The airfield was built in 1940 and early 1941. It was pressed into service in May 1941, just prior to completion of works as a Fighter Command airfield. The airfield was officially opened on 29 June 1941. On 14 July 1941 the first operational unit arrived with No. 245 Sqn in their Hawker Hurricanes. The Sqn left for England on 1 September 1941. On 26 October 1941 No. 504 Squadron RAF arrived, damaging seven Hurricanes on landing due to a strong crosswind. Shortly after their arrival, the squadron converted to Supermarine Spitfires. On 22 january 1942 the squadron left for RAF Kirkistown, making room for 25 Night Fighter Squadron flying Bristol Beaufighters. 25 NFS arrived on 24 January 1942.
By that time enemy reconnaissance flights over Northern Ireland were frequent. Usually Spitfire pilots would chase them to the limits of their fuel. These operations and the airfield's poor weather record meant there was a steady drain of pilots owing to accidents. Of 3 aircraft taking off on 9 February 1942, one 'landed' in a field, one landed with only 6 gallons of fuel left and a third disappeared altogether. The body of its pilot, Sgt. Cannon, washed ashore in a dingy on the Mull of Galloway, having died of exposure. 25 NFS left the airfield in mid-May.
On 19 June 1942 504 Sqn returned to the airfield. In Autumn 1942 they were joined by the USAAF's 5 Fighter Squadron, flying Spitfires. Another unit to set up on the airfield was 1493 Gunnery Flight. In October 1942 504 Sqn left the airfield, being replaced with 501Sqn as Day Defense fighters.
By January 1943 the airfield was in a terrible state. Heavy rains meant most buildings had water pouring in, causing complaints aboutht equality of the hasty construction.
30 April 1943 saw 501 Sqn leave, while 130 Sqn arrived, also with Spitfires. On 5 July 130 left, trading places with 315 Polish Fighter Squadron. On 19 July they were joined by 26 Sqn flying Mustang I. 315 Sqn left in November 1943 to join the RAF Second Tactical Air Force (2TAF). They were replaced with another Polish Squadron: 303 Sqn.



130 Sqn Spitfires at Ballyhalbert in spring of 1943 (AirfieldInformationExchange).



130 Sqn Spitfires at Ballyhalbert in spring of 1943 (AirfieldInformationExchange).



Panorama of the airfield during the stay of 315 (Polish) Sqn (diecast-aviation.eu).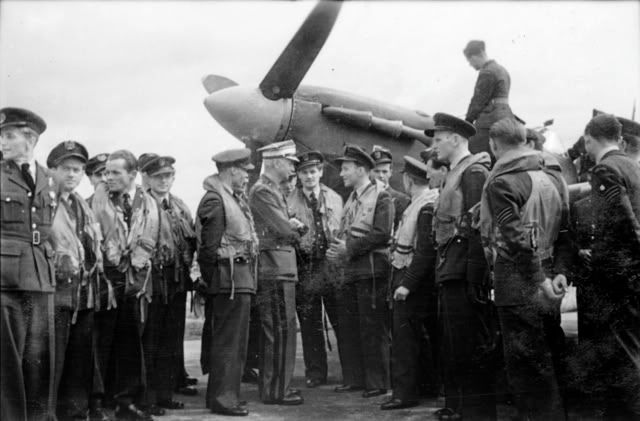 The C-in-C Polish Armed Forces, Gen. Kazimierz Sosnkowski (center) pays a visit to the pilots of 315 (Polish) Sqn (diecast-aviation.eu).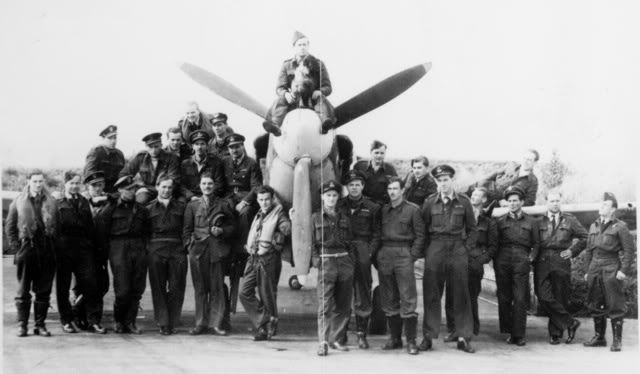 Polish pilots of 315 Sqn posing on and in front of one of their Spitfires (diecast-aviation.eu).

Also arriving in November were 125 Sqn Beaufighters to take over Night Defense. In February 24 Fighter Wing (887 and 894 Sqn FAA) arrived at the airfield. 125 Sqn left Ballyhalbert in March, followed by the FAA Sqns in April. Fairy Fulmars of the FAA's 784 Sqn had arrived earlier that month. On 30 April 303 Polish Sqn left to join 2TAF. On 19 May 1944 General Eisenhouwer, Allied Forces Supreme Commander made a stopover at Ballyhalbert. On 30 May 1840 Naval Squadron was briefly stationed at the airfield with F6F Hellcats. The squadron returned twice in October and November that year. No. 3 Naval Fighter Wing (808 and 885 Sqns FAA) arrived with Supermarine Seafires. 812 Naval Squadron arrived on 5 January 1945, followed by 1846 Sqn 8 days later.

After the final RAF unit (1494TT Flight) departed the airfield in April 1945, Ballyhalbert was turned over to the Admiralty to become a Royal Navy Air Station. The RAFs 1402 Met Flight stayed behind as a tennant unit. On 17 July the airfield was commissioned as HMS Corncrake. The Admiralty decommissioned the field on 13 November however. The airfield was returned to the RAF, more specifically Coastal Command, but remained on Care and Maintenance. It was finally sold off at an auction in March 1960.



Ballyhalbert, with clearly X-marked runways in January 1958 (ww2ni.com).

For years the airfield was in use as a recreational caravan park. In 2010 however, large portions (up to 75%) of the airfield had been torn up to make room for a housing development. Only a few original portions of the airfield are still remaining.



The former airfield in the late 1990s shows only the caravan park on the runways (photo via clydesburn.blogspot.com).



By 2003 the first signs of housing began showing on one of the runways (Google Earth)



Major portions of the airfield's runways were removed to make room for housing projects by 2010 (Flashearth.com).