Validation date: 27 12 2015
Updated on: 11 11 2017
Views: 4828
See on the interactive map:

---
53°13'30"N 000°17'34"W

runway: 02/20 - 1400x50yds - asphalt
runway: 07/25 - 2000x50yds - asphalt
runway: 12/30 - 1400x50yds - asphalt

Bardney airfield (RAF Bardney) was an airfield 190 kilometer north of London.

RAF Bardney opened in April 1943 as a satellite airfield to RAF Waddington. Bardney featured three runways, 35 dispersed parkings, two T2 hangars and a single B1 hangar. It was home base to IX Sqn and 227 Sqn was formed here in Oct 1944 with personnel from IX Sqn making up one flight before moving to RAF Balderton. 189 Sqn also formed here, in Nov 1944, again with personnel from IX Sqn, before moving to RAF Fulbeck. While they were based at Bardney, IX Sqn bombed U-boats and dropped a Tallboy bomb on the Tirpitz. In total, they lost 85 bombers.



18 Sqn returned to Bardney on 8th April 1945 and moved again for RAF Metheringham in October 1945.

The airfield was closed at the end of 1945 and turned over to the Army as a storage and disposal site for their vehicles.


Bardney at some point after October 1945. Clearly, the runways are filled with materials that were left over from the war.

In Jul 1959 RAF Bardney was returned to the RAF and became home to 106 (SM) Sqn with 3 Thor IRBM launchers. Each missile was armed with a one-megaton nuclear warhead, controlled by the US Air Force under a so-called 'dual-key' arrangement. RAF Hemswell was the headquarters for the 5 Lincolnshire dispersal sites at RAF Hemswell, RAF Bardney, RAF Caistor, RAF Coleby Grange and RAF Ludford Magna.
The site finally closed as an RAF station in May 1963.
In later years Bardney became home to a glider club and crop sprayers.

The airfield is still visible today, particularly from the air, where rows of modern chicken sheds mark two of the runways. Some technical site buildings also still exist, including the hangars and the watch office (which today is used as a clubhouse for a model aircraft flying club).
Undated photo of BBMF Lancaster PA474 over RAF Bardney (orig. photographer unknown, via RAF-Lincolnshire.info)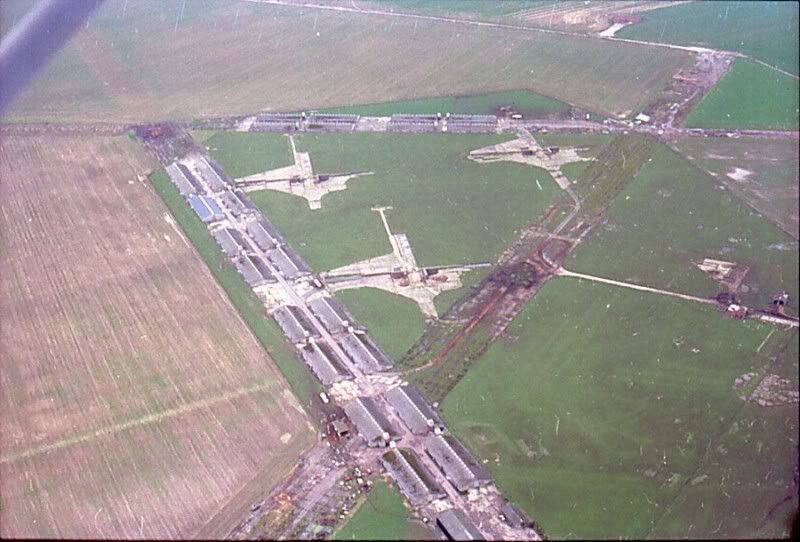 The same location, but from the opposite side, shot on 2 March 1994 (Ossington_2008)
Bardney in 2006 (Google Earth)