Validation date: 22 12 2013
Updated on: 05 02 2020
Views: 3371
See on the interactive map:

---
45°06'15"N 001°12'54"E

Runway: 17/35 - 700x20m - asphalt
Runway: 17/35 - 260x30m - grass (ULM)

Condat-sur-Vézère airfield (french: aérodrome de Condat-sur-Vézère or aérodrome Condat-le-Lardin, ICAO: LFDZ) is a closed airfield 420 kilometer south of Paris.
The airfield already existed as a private airfield in 1981 when permission was granted to change the airfield into a private airfield, supporting a well known local restaurant: Auberge-club 'Marcel Boissière'. The airfield could only be approached on runway 35 and takeoffs were only permitted on runway 17. That and a fairly bumpy runway located on a hill, made the airfield an experience to fly to and from. Unfortunately, the owner of the airfield died in a helicopter accident, and since the airfield has been closed.

1983 - landing chart (Source: Olivier via SIA)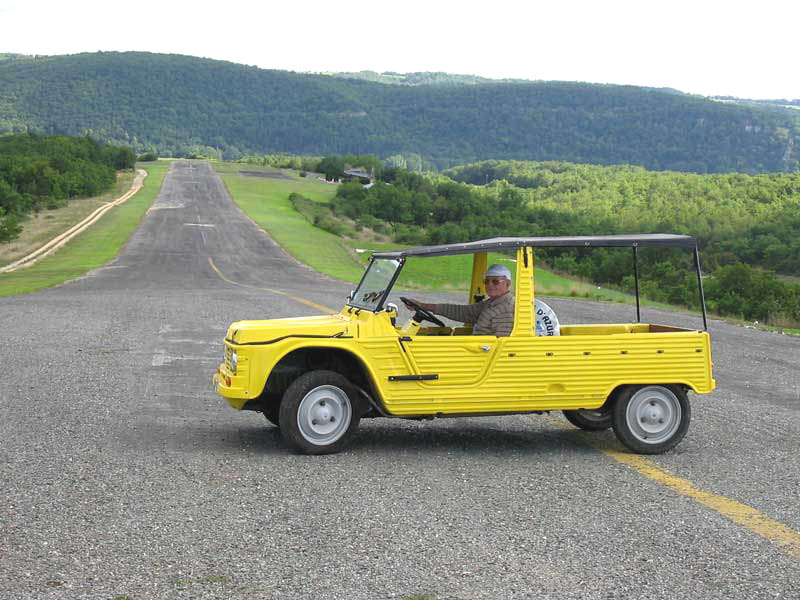 A Citroen Mehari on the runway, when the 'X' markings still indicated closure of the airfield (Jack Gonet).

The former airfield is co-located with ULM airfield Che Yoyo (ICAO: LF2423), but it does not share any infrastructure. In fact: the aeronautical information for Che Yoyo makes it abundantly clear that it is forbidden to use the closed hardened runway of Condat-sur-Vézère.



The airfield in 2010, The large 'X' markings had disappeared, as did the other markings on the runway, but the airfield remained closed (Aéoclubperigueux.com)