Latlon

Runway: 03/21 - 1,290m/1,400 yds - concrete
Runway: 09/27 - 1,740m/1,900 yds - concrete
Runway: 16/34 - 1,290m/1,400 yds - concrete

Downham Market airfield (RAF Downham Market, also known locally as Bexwell airfield) was an airfield 130 km north of London.
The airfield, directly north-east of the small town of the same name, opened in the summer of 1942, initially as a satellite for Marham. The airfield site originally got 36 pan-type aircraft parkings, but two were lost when a Bl hangar was built in the northwest corner of the airfield, west of runway treshold 16. Six T2 hangars were built during 1942-43, of which three were intended for glider storage. Two were on the north side between runway tresholds 21 and 27; another two were on the west side between 09 and 16, south of the Bl hangar. A single T2 was built on the south-east side, between tresholds 27 and 34, and the last one on the technical site, between tresholds 03 and 34. The bomb stores were in Lough Covert. The logistic sites of seven domestic and two communal sites could house 1,719 males and 326 females.
Downham Market airfield plan (Airfield Research Group).
The first operational squadron moved in from Marham in July 1942 when Marham was transferred to 2 Group. I was 218 Sqn, equipped with Short Stirlings. This squadron remained at Downham Market for approximately 20 months. As happened with many other 3 Group squadrons, its `C' Flight was used to form the nucleus of a new squadron, The squadron, numbered 623, formed at Downham on 10 August 1943, and flew its first raid that same night. The Stirling's vulnerability to enemy defences led to the decision to reequip 3 Group with Lancasters. The Stirling squadrons were employed on less exposed duties, notably minelaying, and a few were transferred to Transport Command. As 623 Sqn had never been up to full strength, it was disbanded in early December, after having existed for less than four months. In 39 operations and 150 sorties, 623 Sqn lost ten Stirlings while at Downham.
In October 1943, Downham Market became the second airfield that was equipped with the FIDO-system and it remained one of the few until the end of the war. The system was capable of reducing the fog so that landing aircraft had a better view of the landing ground. The system was constructed in September and the first tests were conducted in October. Sometime later it became operational and until the end of the war 161 airplanes on their return to Downham Market were aided by the FIDO-system.
In March 1944 Downham Market was passed to 8 Group, which caused 218 Sqn to move out to Woolfox Lodge. 218 and 623 Sqn Stirlings were involved in about 300 operations from Downham Market. Over the course of these, over 100 of their aircraft failed to return or were destroyed in crashes.
14 May 1943. This is the aftermath of a crash at RAF Downham Market involving Short Stirling BF480 HA-I "Ink". The aircraft was damaged by flak over Dusseldorf and Essen. Sadly two airman were killed outside the watch office when hit by BF480. All the crew escaped serious injury, Stirling BF480 was SoC Cat E/FB (Salvage) with a total of only 83 flying hours (218 (Gold Coast) Squadron).
8 Group immediately took steps to form another Lancaster squadron, using the `C' Flights of 35 and 97 Sqns from other stations. As a result, No. 635 Squadron became operational on the night of 22/23 March 1944. In April 1944, 591 Sqn, a Mosquito squadron, was formed at Downham, but it moved the same month to Oakington. In August that year 8 Group began its general policy of placing one Mosquito and one Lancaster squadron on each station. 608 Sqn was re-formed in August and equipped with Canadian-built Mosquitos, operating as part of the Light Night Striking Force, five days after its rebirth.
608 and 635 continued to operate from Downham to the end of the war. The last combat mission, to the port of Kiel by Mosquitos of 608 Sqn, was flown on 2 May 1945. After VE-Day, food dropping raids were executed in the west of the Netherlands from RAF Downham Market. Also The squadron also brought British former POWs back to their country. In May and June, ground personnel of RAF Downham Market got the opportunity to fly over the ruins of German cities in a Lancaster. They could see the results of their work of the last years. Also the bomber crews that had executed the missions saw for the first time what damage they had inflicted during their raids as most of the time they had only flown at night. The 608 and 635 Sqns were disbanded in September 1945, after which RAF Downham Market remained in use by the RAF for some time.
During operations from Downham Market, Bomber Command had lost 170 aircraft, either failing to return or crashing during the operations launched from this station, comprising 109 Stirlings, 40 Lancasters and 21 Mosquitos.
Undated photo of RAF Downham Market. The lines parallel to the main (09/27) runway suggest an installed FiDo system, meaning this photo was taken after the summere of 1943 (Wikimapia)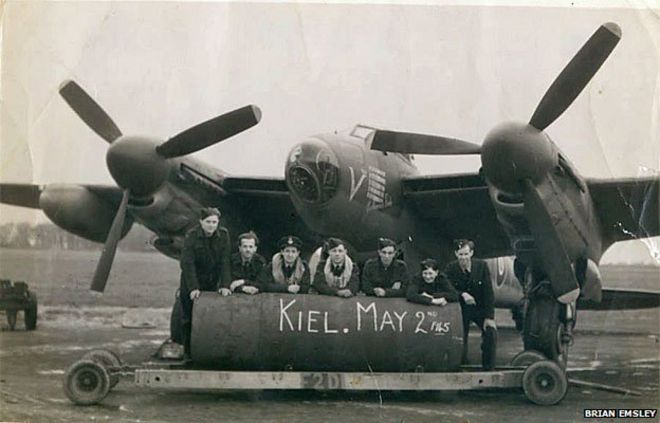 This photograph shows an RAF crew with a Mosquito aircraft and a bomb to be used on a raid against the Kiel canal. The ground and air crew were photographed on 2 May 1945 at RAF Downham Market in Norfolk. The photograph, capturing preparations for a final bombing raid, was found by Brian Emsley, from Welwyn Garden City, whose father Edward Emsley is on the far left of the frame. The date is chalked on the side of a bomb, suggesting someone recognised that this was a moment in history to be recorded. he Ministry of Defence's Air Historical Branch has confirmed that this mission was Bomber Command's last raid against Germany (BBC).
Although the station was retained by the RAF for another year, little flying took place. It closed on 24 October 1946 and like many of the surplus airfields it lingered on for a few years before it was finally disposed of in 1957. Farming reclaimed the land and the technical site was developed as an industrial estate including a heavy goods vehicle testing centre and depots for Anglia Water and Norfolk Highways. Most of the runways were broken up to be used as aggregate in the late 1970s. The last section of runway was removed in the summer of 2016. An unmanned radio-relay tower stands in one corner. Photos of the remains of the airfield, shot in 2016 by Evelyn Simak, can be viewed at geograph.org.uk.
Photo of Downham Market in 2015. In the center, the last remaining bit of runway is recognisable. to it's right and slightly up are the remains of the logistics site (Airfield Research Group).