49°19'11"N 000°31'09"W
runway: ../.. - 1200x40m/3600x120feet - SMT
Airfield St.Croix-sur-Mer (Advanced Landing Ground B.3 St.Croix-sur-Mer) was an Allied wartime airfield in Normandy, France.
The airfields construction by a Royal Engineers Airfield Construction Group began just after after D-Day. The group built a runway and dispersal areas, while communications facilities were provided by equipment installed in vehicles. It was located between the villages of St.Croix-sur-Mer, Crépon and Ver-sur-Mer.
ALG B-3 became the first ALG in Normandy in the morning of 10 June, but the planned opening did not proceed as foreseen. While the press was waiting for the formal first landing of Air Vice Marshall Harry Broadhurst and 144 Wing (Canadian), a damaged Typhoon bearing empty rocket rails and a vibrating motor arrived instead to christen the new landing ground, thereby claiming the historic moment. The pilot was a Flying Officer Bill Smith from 245Sqn, RAF, who decided B.3 was the best location to land his Flak damaged Typhoon.

11 Minute video of newsreel footage shot at B.3 in 1944, describing the construction and initial use of the airfield
(Click to view at British Pathé, via TwoSpitfires)

The ground element of 144Wing awaiting the arrival of the air wing at B.3 on 10 June 1944.

144Wing Spitfires after their arrival at B.3 on 10 June 1944.

Groundcrew rearming a 144 Wing Spitfire at B.3 on 10 June 1944.



A Royal Air Force Second Tactical Air Force Supermarine Spitfire Mark IX, based in the United Kingdom, landing at to refuel at B3/Ste Croix-sur-Mer, Normandy (Imperial War Museum, via Wikimedia).
Being a temporary airfield, its facilities were basic, but adequate. A fuel and ammunition dump was located near the airfield. A church near ALG B.2 is believed to have served as Ground Control for the entire Normandy 2TAF area of responsibility. The airfield was located only 2.5 kilometers from the Normandy beaches, and when it opened the frontline was not much further away. Over the first month of its existence the frontline only moved to 19 kilometers (11 miles) away.

B.3 St.Croix-sur-Mer from the air on 12 June 1944, showing 12 Spitfires above and 11 Spitfires under the main runway. Photo by Lt John S Blyth of the 14th Squadron, 7th Photo Group, Mount Farm, Oxfordshire, UK, via Flickr.
While 144 and 146Wing operated from the airfield it was also used to evacuate injured soldiers, sailors and airmen to England. In addition a constant stream of other Allied squadrons used the airfield for fuel, ammunition or repair. On 23 July 1944 Prime Minister Winston Churchill paid a morale boosting visit to B.3 St. Croix-sur-Mer, flown by Air Vice Marshall Harry Broadhurst in his captured Fieseler Storch. He did a speech at the airfield, and then visited troops in the area by jeep.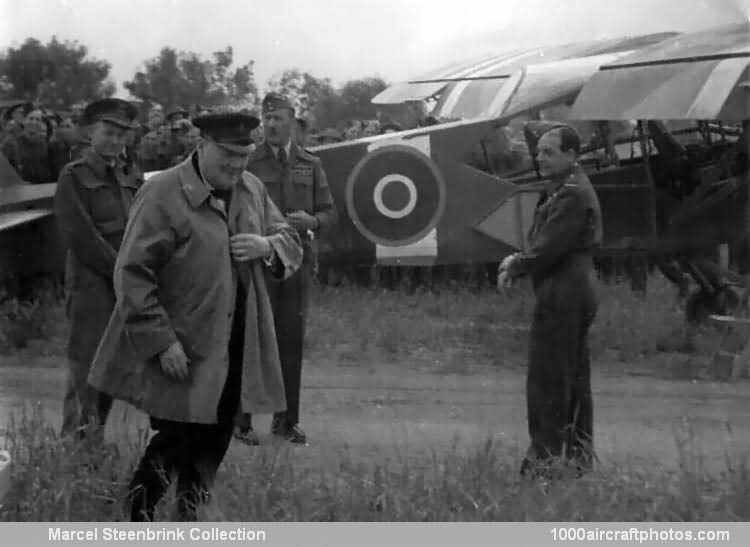 Winston Churchill, just after he left the captured Fieseler Storch (here in RAF markings) at St.Croix-sur-Mer (1000aircraftpictures.com)
Bazenville was used until 4 September 1944. The lands were then returned to their respective owners. Today, nothing remains of the former airfield. The lands have been converted back to agricultural use. Just outside the village of St.Croix-sur-Mer stands a small memorial to the airfield and the men who fought there.