Validation date: 28 11 2016
Updated on: Never
Views: 6634
See on the interactive map:

---
53°08'49"N 000°40'16"W

Runway: 02/22 - 0000x...ft/0000x...m - asphalt
Runway: 06/24 - 6056x...ft/1845x...m - asphalt
Runway: 11/29 - 4163x...ft/1268x...m - asphalt



RAF Swinderby station crest

Swinderby airfield (RAF Swinderby, ICAO: initially MWXS, then EGXS) 190 kilometer north of London.
The airfield opened in 1940 and was one of the last 1930s 'Expansion scheme' airfields to be completed.
Swinderby was under command of No 1 Group Bomber Command and was home to several Bomber Squadrons, such as 300 and 301 Polish Bomber Squadrons, with Fairey Battle and later Vickers Wellington bombers until 1941. 50 Sqn Lancasters also served from Swinderby: between 19 Jul 1941 and 26 Nov 1941, and after the airfield became a 5 Group unit in February 1942, again from 20 Jun 1942 until 17 Oct 1942
In 1942, the airfield was also home to two Heavy Conversion Units (Bomber Command training units): 1654 HCU and 1660 HCU, with the latter remaining at Swinderby until September 1946. RAF Swinderby became a supporting unit to HQ No 5 Group when they moved to Morton Hall in November 1943.



RAF Swinderby aerial photograph dated April 1941.
Oblique aerial view of RAF Swinderby, Lincolnshire, looking south-south-west. Vickers Wellingtons belonging to Nos. 300 and 301 Polish Bomber Squadrons RAF can be seen parked on the airfield and on the circular pans of two three-spurred dispersals constructed across the Fosse Way (A46) in the foreground. On the left, a public road runs eastward from Halfway Houses (lower left) to Lane Moor Lane, dividing the airfield technical site and hangars from the domestic site (off left) - ROYAL AIR FORCE BOMBER COMMAND, 1939-1941 - © IWM (HU 93063)



Rare World War 2 colour photo of an operational Lancaster crew of 50 Squadron at RAF Swinderby.

After the war, Swinderby was home to 8FTS, converting new pilots to the de Havilland Vampire jet fighter.
In 1964, RAF Swinderby became home to No. 7 School of Recruit Training, responsible for the initial military training of all male enlisted personnel. The School was renamed RAF School of Recruit Training in 1976, when all female training was brought to Swinderby as well. The first integrated Flight (males and females) begain training in November 1988.
The final pass out parade was held in July 1993, before the School moved to RAF Halton and RAF Swinderby closed permanently.



Wellington at No.201 A.F.S. (Advanced Flying School), RAF Swinderby, probably late 1947 (John Saunders at Flickr)



Fragment of a map dated 1956. Unfortunately the quality was so poor a lot of detail had to be drawn in (Ossington_2008 via Airfield Research Group)



Surprise low level fly-by by a Vulcan bomber during a pass out ceremony at Swinderby



Recruits posing with their instructor and an EE Canberra bomber at RAF Swinderby in 1975 (Alan Scott-Davies on Flickr)

The airfield was sold in 1995 to be mined. For years they left the airfield untouched however, and rented the land to a company who held the Swinderby Antiques Fair 5 years per year. Demolition of the logistics site began around 2008 until the hangars and control towers (Swinderby had two: the old 1939 villa style tower and a more modern 1955 building) remained in 2011. By 2012 only two hangars remained.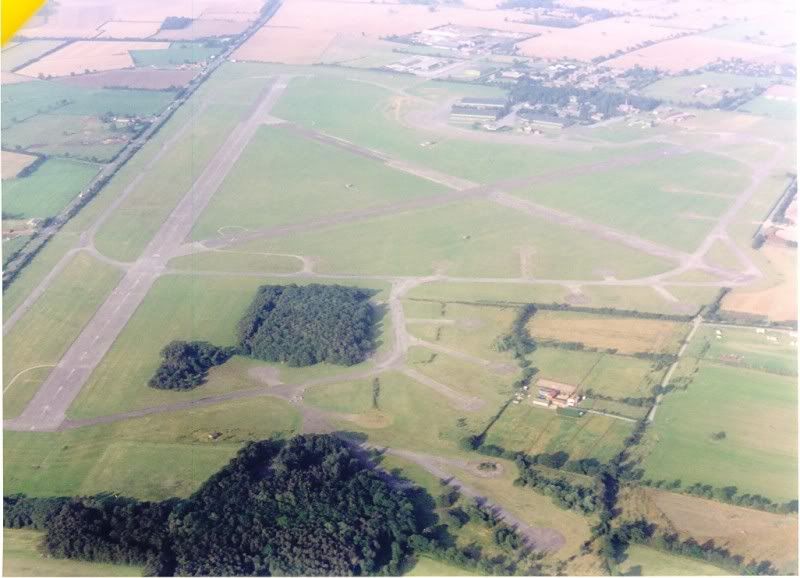 Swinderby photographed on 2 August 1997 (Ossington_2008 via Airfield Research Group)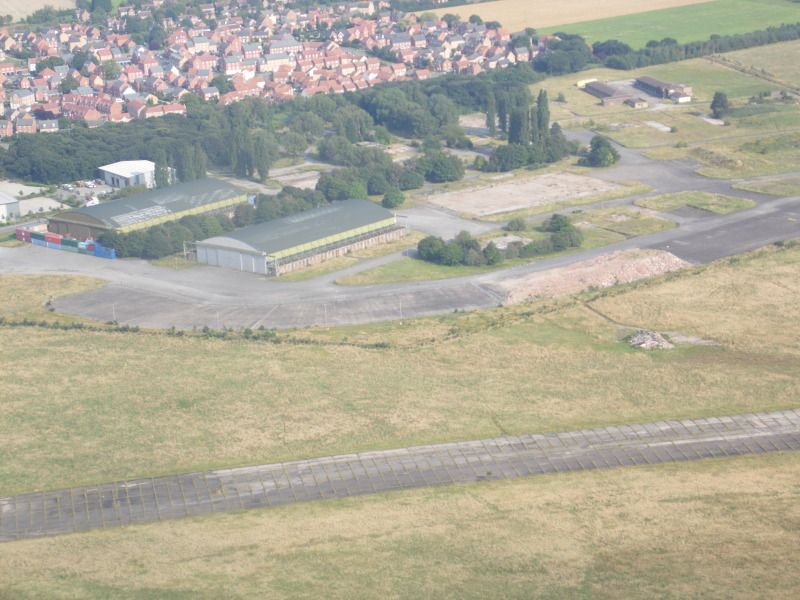 Late in August 2012 this photo was shot to record what was left of Swinderby. With the exception of two hangars, most of the airfields infrastructure, including its control towers, had disappeared (Ossington_2008 via Airfield Research Group)



Shot in December 2015, the demolition of the runways has begun in earnest, and the main runway was the first to go (29/12/15 by Nigel Bailey-Underwood, via Airfield Research Group)